The story of a man who rescues a child then disappears, and the family and city who insist on thanking him. Owen's Day explores the value of risk-taking as a catalyst for human progress.
When 9-year-old Tom Newton is saved from icy death by a man who disappears into the night, the story captures public attention. But days pass and the mystery deepens until a train wreck drives it from the front page. Tom's mother, Sara, begins to fear she may never be able to thank her son's rescuer, and worse: that Tom will go on believing that he was rescued by the spirit of his dead father.
Eventually, the local hero is identified as Owen Adair, a wealthy, reclusive publisher who believes you have to take risks if you want to get ahead. Owen has a poor opinion of his impulsive action and dismisses Sara's gratitude. He has troubles of his own, and she is more than happy to help him because of his brave act.
When the media get wind of her assistance, Sara becomes front page news herself, an infuriating turn of events because Owen has done something that angered her so deeply she wants nothing more to do with him.
The train wreck and other news take a back seat as Sara and Owen find their names inextricably linked. Sara must solve the riddle of a man with a host of friends who never see him, while Owen confronts the unpleasant reality that putting things right with Sara will demand the biggest risk he's ever taken in his life.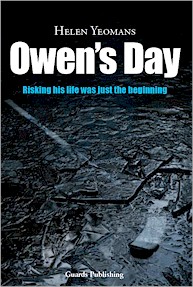 Cover photography and design by Felix Ferreiro
Get More Information and/or Buy This eBook