In Kids Say the Cutest Things When They're Drunk, Dan McQuinn presents a collection of 50+ comic essays providing sure-fire laughs drunk or sober.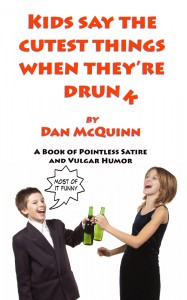 From the origins of necrophilia to a newsletter dedicated to hating Will Smith, no topic is too risqué or too mundane for McQuinn to tackle:
      • A parenting guide that suggests selling human body  parts to pay for college
      • A job interview through the eyes of a kindergartner
      • A rejection letter from Make-A-Wish for a child suffering from swimmer's ear
      • A campaign speech from a politician advocating mass  self-destruction
      • A corporate privacy policy that explains how your personal information is shared with Dr. Phil and the Ku Klux Klan
Both pointless and vulgar, Kids Say The Cutest Things When They're Drunk is a must read for anyone who enjoys sharp humor with a cynical bent.
Praise and Reviews
"This is the best debut publication I've ever written!"
                              Dan McQuinn
About Dan
An alumnus of Second City's writing program, Dan has contributed to the writing of several comic plays and many unfinished crossword puzzles. Dan lives in the western suburbs of Chicago with his trophy wife, two children and a dog that barks at drywall.