Maria Jimenez and her dad share many things including a passion for going to see the monkeys at their local primate sanctuary.  But when Maria's father returns home from military service with an injury, how will she find a way to help him recapture his spirit and independence?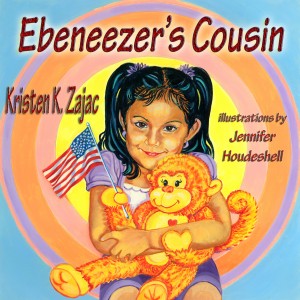 Written by: Kristen Zajac        Illustrated by: Jennifer Houdeshell
A patriotic story about courage, hope, strength, and heroes. Maria Jimenez is very proud of her Daddy. He is in the military and always brings Maria souvenirs from the countries he visits which Maria happily takes to school for show and tell. Whenever he is home between deployments, Maria and her Dad have the best time going to their favorite place-the local primate sanctuary-to see the monkeys. Maria's stuffed animal monkey, Ebeneezer, always tags along on the adventures.
Then one evening everything changes. Maria's father returns home early from a deployment with an injury. Maria doesn't know how to reach him. He is quiet and withdrawn and needs a lot of help from Maria and her mom. How will Maria help her dad? Maria doesn't know all the answers, but she does know two things. We are stronger together than alone and her Daddy will always be her hero.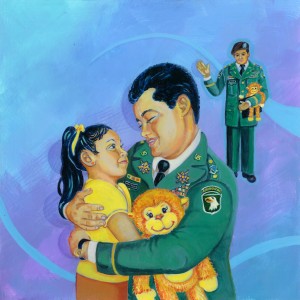 Video Preview of Book

http://www.youtube.com/watch?v=1u45VtZb3IE
Purchase This Book   (Includes info on the "Friends of Ebeneezer Program" where copies may be purchased for families of wounded veterans.)
http://www.guardianangelpublishing.com/ebeneezers-cousin.htm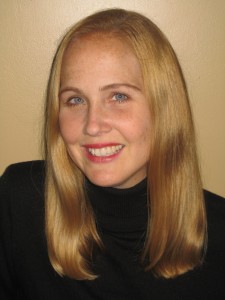 About the Author: Kristen Zajac was inspired to write this story in tribute to the courageous military families she met and heard about during her work at United States Central Command. Before becoming an author, Kristen was an Associate with Booz Allen Hamilton in Tampa, Florida, where she worked on-site at U.S. Central Command, MacDill Air Force Base, writing threat assessments for deployed service members.
Prior to joining Booz Allen, Kristen worked at FBI Headquarters in Washington D.C. as an analyst in the Counterterrorism Division. She was awarded a 1997 Presidential Management Fellowship in  Washington D.C. by the Office of Personnel Management.
Kristen earned a Master of Arts in Political Science from the University of Florida and a Bachelor of Arts in Political Science from Stetson University. She is a member of the Society of Children's Book Writers and Illustrators. Kristen and her husband are the proud parents of boy/girl twins who love books as much as they do. Visit her website with resources for kids, parents, and teachers at http://www.kristenzajac.com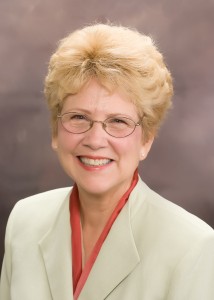 About the Illustrator: Jennifer Thomas Houdeshell, professional artist and illustrator, has been enthralled with picture books ever since she was a tiny tree climbing child. After graduating from Wright State University in Ohio, she shared her creative process with children and teens in public schools for seventeen years as an award winning art educator, blessing them with her boundless enthusiasm and being blessed by them in return. Now she teaches part time at the Museum of Florida Art and as an art therapist at the Agape Clubhouse for the homeless.
Houdeshell's artwork is in private and business collections in the United States and Germany and has exhibited in many museums and galleries including a recent solo museum show. The main body of her work is figurative with an emphasis upon child nurturing relationships, religious themes, and social issues such as child labor and the environment. In addition, she has done commercial work for a variety of businesses and churches as well as public and private murals. She has illustrated three picture books including "Peter and the Silent Siren." In her artist statement, Houdeshell writes "Art is my affirmation of life and the power of love. It is my spiritual link with my Creator, the haunting, lilting melody that leads me both in times of sunshine and shadow." She wishes all children much sunshine and confides that she still loves treehouses. Jennifer and her husband, Walt, live in Florida and have two talented daughters. Her website is http://www.zhibit.org/Jenniferhoudeshellartist