Where there is art, there are thieves. Mai Ling is both. Artist by day, thief by night, she recovers stolen art for Interpol. It's a business, not a passion, until her beloved grandfather reveals a family secret that is also a destiny. He is duty-bound to return to china an especially precious bowl which belonged to his ancestor. Mai must steal it for him.
But Mai Ling is not the only one after the bowl. Four others plan to extract the bowl from a private California art collection. The rival thieves grasp and then lose the bowl until finally Mai is faced with the ultimate dilemma: save the bowl or save herself. Her duty to her grandfather gives her only one choice.
Set against the vibrant backdrop of the Monterey Peninsula and peopled with quirky characters, this stylish art caper entertains on every page.
The author lives in California and writes full-time, she has two MA degrees in English and Audiology. She worked with deaf children at San Diego Children's Hospital and has lectured at San Diego State University. This is her first novel.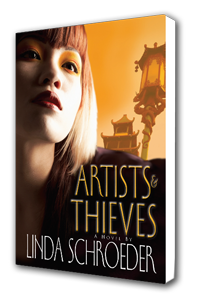 Get More Information and/or Buy This eBook