Dr. Jack Forester, director of the New Canterbury University Hospital emergency department, is about to win an ongoing battle to modernize the ED when he's stymied by the power-hungry dean, Bryson Witner. Then someone tries to murder Jack's mentor and the former dean, setting it up to look like suicide.
Bit by bit, Jack uncovers facts that suggest several other recent tragic accidents may not have been in the least accidental. The deeper he digs, the closer danger creeps, and the phrase "life or death" begins to take on a new and very personal meaning.
"FINAL MERCY is a superbly written medical thriller. The author, a medical doctor, has created a tale of suspense and intrigue . . . along with an inside look at emergency medicine. . . . Outstanding."
–Readers Favorites.
FINAL MERCY is a medical thriller that I couldn't put down.
–Hamilton Gregory (Author of Public Speaking for College and Career, McGraw-Hill)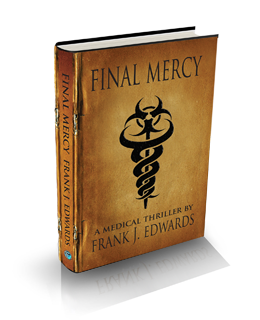 [cf usp-authorname]
Get More Information and/or Buy This eBook