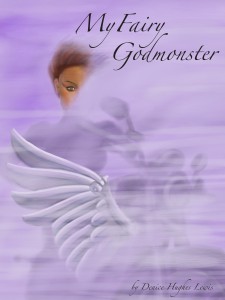 Winifred, fifteen, loves her life raising horses with her dad in Oregon. It's great until her brother returns home from college with his future-in-laws. They take over her house for a month to plan the wedding. Losing her mother at birth, Winifred isn't prepared for the scary dictator, the bratty child and creepy cat who take over her bedroom. Where else can she escape except the attic bedroom, a quiet place with her mother's belongings? When her dad leaves to pick up a prized stallion and her brother deserts her, Winifred is forced into drudgery. What's she supposed to do with the Fairy Godmonster who shows up by mistake? Although Winifred admires her cool mentor's orange spiky hair, red jumpsuit and yellow boots, she's exhausted trying to keep Fairy Godmonster from being discovered. To make everything worse, Fairy Godmonster has a malfunctioning magic whip. Instead of helping her, Fairy Godmonster creates jungles, hot tubs and wedding boutiques in her attic bedroom. Isn't it enough to cope with strangers in her house, pregnant mares, ranch duties, household chores and the handsome usher who makes her toes tingle?
Get More Information and/or Buy This eBook
About the Author — Denice is a graduate of the Institute of Children's Literature with a specialty in fantasy, humor and adventure. She has studied screenwriting with Cynthia Whitcomb, a playwright and T.V. screenwriter. At Screenwriting U, she has taken numerous online courses from Hal Croasmun, a Hollywood writer/producer, owner of Class 3 Entertainment. While her screenplays follow the rules of screenwriting at its best, her screenplays have a quirky, imaginative perspective.
She is a member of the ProSeries Alumni, an active online group of dedicated screenwriters and SCBWI-OREGON, a society for children's writers and illustrators. With the members of Capt. Skipper Productions, she is developing a spec comedy tv pilot and series.
She was a finalist in Hal Croasmun's first Biz of Screenwriting Contest. As a preliminary judge in his second Biz of Screenwriting Contest and giving consultations to her screenwriting and writing friends, Denice is well-acquainted with the structure, characterization and emotion needed to create exciting screenplays and novels.
She is also a lyricist and songwriter.
For more about Denice visit here: www.denicehugheslewis.com
To read or download a 13-page excerpt from My Fairy Godmonster click here.