Award Winner
2009 Ohioana Library Award for Writing and Editing Excellence
 (to Mardo Williams' daughters, Kay and Jerri, for finishing the novel after his death)
2006 Independent Publisher Book Awards, Best Regional Fiction
2005 National Readers Choice Awards, Finalist
 2005 Akron Beacon-Journal's List of Best Books by Local Authors
A story about finding love at any age, One Last Dance is the delightful tale of Morgan, aged 89, and Dixie, 79, two "mature" individuals on seemingly divergent paths. Despite their disastrous first meeting, complete with a ruined birthday cake, broken eyeglasses and insulting remarks, it was obvious to bystanders, even then, that the two were fated for each other.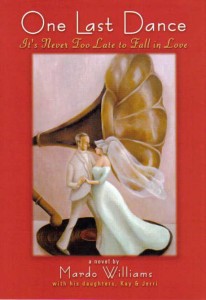 Dixie and Morgan begin to date and ultimately decide to move in together—for economic reasons, they agree. But the business-only relationship changes and strengthens as the couple unites to combat illness, scandal, and a near-fatal accident. The story also reveals how past insecurities, humiliations, and fears can haunt a person throughout his days. Dixie fears intimacy. Morgan has concealed important details about his divorce, his estranged children, and his lost job.  When a troubled grandson collides with the daring course set by the lovers,  not only does he save their lives, but he brings Dixie and Morgan the love and pride they'd lost decades before.
Written with great humor and a deep understanding of the challenges associated with aging in America, One Last Dance is a joy to read and a reminder to all generations to live every day and always be in search of new experiences, regardless of age. Author Mardo Williams lived that philosophy by writing this, his first novel, at age 92.
Get More Information and/or Buy This eBook
RECENT REVIEWS:
"Williams' writing shows a ready wit, and neither Dixie nor Morgan is spared from comic consequences. One Last Dance is charming and touching. That the main characters are willful and stubborn does little to diminish their appeal." —Barbara McIntyre, Akron Beacon-Journal
"The Williamses introduce us to Morgan, a handsome curmudgeon, still running from his past, and Dixie, a lovely social butterfly, who is still grieving hers. Their disastrous meeting started with smeared cake frosting and developed into a moving tribute that love conquers all pain. Williams and his daughters have achieved a thing of beauty." —Debra Kiefat, ArmchairInterviews.com
"His final deadline came too soon, but Mardo Williams made sure his novel had a happy ending. One Last Dance, a wry novel about late-in-life romance…includes conflict, mystery, and scandal." — Mark Ellis, Columbus Dispatch
"A sweepingly elegant romance, One Last Dance celebrates the importance of living in the moment and never giving up in the search for love." —Jim Cox, MIDWEST BOOK REVIEW
"One Last Dance is full of wit, wisdom, lust and love. It's also as real as life itself, and a guide for anyone who hopes to live as long as its main characters." —Alice Hornbaker, former journalist, Cincinnati Post
"One Last Dance also captures young people-at-risk, demonstrating that with help, caring, and luck, they don't have to become throw-away kids. It's really a book for all ages." —Leslie Snyder, retired English teacher/drug & alcohol counselor
About the Authors
 After a distinguished career as journalist and author (for which he won an Ohioana Library Award), Mardo Williams completed the first draft of this novel at age 95. His daughters, Kay & Jerri, both writers, honoring their father's wishes, finished the book after his death. One Last Dance is a collaborative labor of love.  Kay Williams is a writer, editor, and actress living in New York City. Jerri Williams Lawrence is a former Master English teacher for gifted students, editor of fiction and non-fiction, and writer in Ohio.