Beverly Hills celebutante Houston Knight has a $10,000 a month allowance, never sees her famous parents, and could care less. Living the privileged life of young Hollywood, volatile Houston is unstoppable – right up until the moment she's arrested for drug dealing and assault.
Fifteen year old Cat likes older guys and if sex is part of the bargain, she's okay with that. If these relationships ruin those mens' lives, she's okay with that, too. And if they're married? So much the better. Smart and manipulative, Cat's Ivy League bound until she causes a horrific accident that can't be undone.
Lee Ann hates her body. Cutting and burning herself are the only things that make her feel better. A vicious stunt by her schoolmates humiliates Lee Ann and plunges her into depression. Her parents will be sad when she's gone, but being dead seems the only option.
Houston, Cat, and Lee Ann must confront themselves and each other at a last chance ranch for troubled teens in the Montana wilderness or be sent home. And that's the last thing any of them wants.
260 pages with intergrated graphics.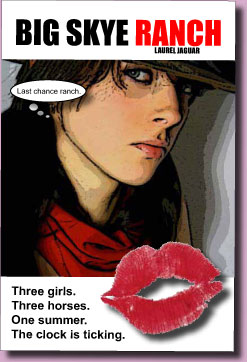 Get More Information and/or Buy This eBook