2008 AWARD WINNER Best Suspense & Book of the Year

,
ReaderViews Reviewers Choice Awards
Set in the seedy mid-80s New York City neighborhood of Hell's Kitchen—where drugs and prostitution run rampant—Lee Fairchild's repertory theater is the perfect place for murder. The theater was an abandoned burlesque house where the homeless lived. The third floor makes Lee uneasy with its scattering of feathers and bones. Still, having the theater is a dream come true. If her husband hadn't died six months earlier, she'd be euphoric.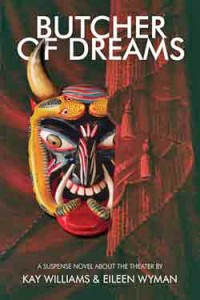 It doesn't matter, she tells herself, that her brilliant Artistic Director, Alan Dunbar, has mysterious gaps in his resume since they last worked together; that her guest director, Ernst Kromer, is uncooperative; that the theater is under-staffed. Times Square redevelopment makes the property desirable.
She finds the mutilated body of a homeless man on the third floor, a crack vial and black candles beside him. Mordecai Green, cynical NYPD detective (who also moonlights as an actor), investigates. The death is termed suspicious.
Lee's call to a temp agency brings her Michael Day, sexy and mysterious. He's charming, helpful, generous to a fault. He confides he recently had a car accident and still has severe headaches. He shrugs it off but Lee sees he's worried. Lonely, she falls into a passionate affair with the younger man.
At a cast party held at Lee's home, Alan's lover, psychiatrist Walter Kaplan, also attends. He's intrigued by the Mexican mask hanging on Lee's wall, says he's doing a paper on Indian rites and occult practices for the Society of Medical Anthropology. Lee tells him the mask supposedly had been used in Aztec sacrifices. The Indian who'd sold it to her late husband said it had an ancient curse. Maybe the Indian was right, Lee thinks. Richard was too healthy to have had a heart attack and die.
After the party ends, Lee discovers the mask is missing.
The theater has a run of bad luck. An actor is stabbed. An actress is poisoned.
When the missing finger of the homeless man shows up on the third floor, entangled in the bodice of Lee's nightgown, she pays a visit to Detective Green. Someone, she says, is trying to scare them off the property. Green also suggests Santeria practices.
The missing Mexican mask, its three eyes glittering with malice, hovers over the theater like a demented moon. In the shadows is the figure who controls it—until the mask takes control of him.
Bizarre events escalate to ritual murder. Is there a cult at the theater? Is it a psycho, working alone? Does someone want the theater property?
Lee discovers the shocking truth. But not before she almost loses the theater, and, in a heart-pounding climax, nearly loses her life.
Recent Reviews:
"This mystery is so character driven that it is easy to suspect any of the theater company…they all have something to hide. But it is Lee's ultimate struggle with loneliness and an overloaded professional struggle that brings the story to its shocking climax. Don't start this wonderful story if you have something else to do, because this fantastic plot will win the fight! A big thumbs up!!" —Shelley Glodowski, Senior Reviewer, Midwest Book Review
"Butcher of Dreams is set in New York's squalid Hell's Kitchen. It's 1985, and a fledgling theater company is trying to get through its first season without going bankrupt… or getting killed. With a whole troupe, there are plenty of suspects. Wyman has a radio and TV background, and Williams is an actress, so the backstage details have authority, and Lee's story is effectively told." —Barbara McIntyre, Akron-Beacon-Journal
"The writing is tight and precise. The characters are amazingly detailed and believable, with their back-stories intricately weaving in and out of the main story line. Butcher of Dreams is one of the really thrilling mysteries I've read, remaining mysterious to the very end of the book." –Olivera Baumgartner-Jackson for ReaderViews.com
"I [was] caught up in the plot and chilled by how it unfolded. A very disturbing read indeed." —Marie Elmvang, ArmchairInterviews.com
"Butcher of Dreams is set in a world that is both real and unreal, tangible and imagined. One can never be truly sure whether something is artifice or reality, an acting moment or an emotional moment, and this uncertainty keeps the reader as well as the book's characters off-guard and interested." —Tory Lowe, The Ashland University Collegian
"Smart, tough, talented, sensitive Lee Fairchild is just the kind of woman who can successfully manage and act in her own off-Broadway theatre. When a ritually mutilated body is found in her theatre she must fight her way through a bewildering mesh of loves, fears, egos, myths, and blood to discover the truth that will save her theatre and herself." —P.M. Carlson, author of Crossfire
About the Authors
Kay Williams and Eileen Wyman received the inspiration for Butcher of Dreams when they moved into Manhattan Plaza, housing for performing artists, in Hell's Kitchen. At the time, the neighborhood was considered one of the worst in New York City for crime. Kay is a writer and professional actress who has played leading roles in theaters in the U.S., including the San Francisco Actors Workshop, the Pittsburgh Playhouse, and Off-Broadway. Eileen is a writer of short fiction and has edited many books and film scripts. She has had a career in radio/television and is a gifted comedy writer, crafting jokes, humorous fillers, and captions for cartoonists.
Kay and Eileen are currently finishing up  another suspense thriller, Tryst at the Kafe Fantazii [working title], that opens in Leningrad in 1991, with independent filmmakers competing at the Leningrad Documentary Festival, against the chaotic backdrop of a disintegrating Russia.  When main character  Kate Hennessey returns home, inspired by the courage of the Russian people, she finds the  courage to be herself, vowing never to take freedoms for granted–they can be eroded, vowing to fight for human rights in the U.S. But first she must fight for her life, as those who tried to kill her in Leningrad have followed her to New York City.