~

A 2011 Amazon Breakthrough Novel Semifinalist

~
Elvis Presley sang about them; Al Capone was afraid of them. The legendary Purple Gang rose from a Jewish ghetto in Detroit to rule the river during the Motor City's booming 1920s heyday. Their dramatic story is revealed in THE PURPLES, a novel blending rich historical detail with nonstop suspense, narrated by the gang's leader—the cool, savvy, unforgettable Joe Bernstein.
Shunned by his community… locked up for trying to help an innocent girl… ambushed by rivals and left for dead in the Detroit River: Joe Bernstein has a few scores to settle, and a bold plan to seize control of the Motor City in its booming 1920s heyday. With his faithful "agent" Abie, his brilliant but fragile brother Max, and an out-of-control enforcer named Grabowski, Bernstein gives rise to the infamous Purple Gang whose members were said to be "tainted, like spoiled meat."
While trying to control the pipeline connecting dry America to wet Canada, Joe also must contend with having "a sweetheart in the nut house" and rising tensions within his gang. Worst of all, the D.A.'s office has hired an amputee war hero named Riley—who always seems to be one step ahead of Joe's big plans.
A fast-paced thriller, THE PURPLES blends richly-detailed historical fiction with nonstop action, all narrated by the smart, cynical but self-deluding Joe Bernstein.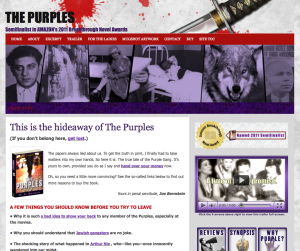 Still wondering if this ebook is for you? Find excerpts, reviews, photos, artwork, music, and a really dark sense of humor at ThePurplesBook.com. (There you'll also find out how to follow Joe Bernstein and the gang on Twitter and Facebook.)
* * *
Recent reviews (see more reviews on THE PURPLES Kindle page):
"The rich detail of the multifaceted characters bring realism to this well-crafted tale. The author reveals that not even the most hardened gangster is truly good or evil as gang violence erupts and the story reaches its fitting conclusion."
—Publishers Weekly
"A finely crafted novel, this effort by W. K. Berger is worthy of every—and any—superlative in the English vocabulary. Very entertaining…."
—The Book Review Dude, George Wolf
"Read this book because it's fun. Berger captures the spirit of Detroit when it is small enough to walk around and when the whole city administration can easily fit into a gangster's hip pocket."
—Historical Novel Review, L. Gregory Graham
"The cover quote says, 'Fast moving and funny, The Purples has a hard edge, a soft heart, and an original voice.' I've never read a more apt blurb…. The appeal of The Purples is universal."
—LL Book Review, Peter Hassebroek
* * *
Not into reading right now? Watch these two short book trailers about THE PURPLES:
THE PURPLES: A Time of Bright Promise (YouTube video)
Who are The Purples? (YouTube video)
* * *
About [cf "user_submit_name"]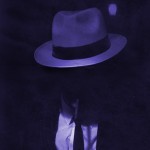 After many years writing feature articles for national publications such as The New York Times, The Los Angeles Times, and Wired, as well as several nonfiction books for Penguin, Random House and other publishers, Warren (W. K.) Berger plunged into writing his first novel. The idea for THE PURPLES came out of a long-ago family connection to the infamous Purple Gang, a wild group of rumrunners who ruled Detroit during Prohibition. (His connection is to the man who took them down.) With some facts and a lot of imagination Berger chronicles the gang's swift rise and fall through the voice of their smart, cynical, and slightly self-delusional leader, Joe. Find much more info about the writing, setting and characters (along with photos, music and a book trailer) at http://ThePurplesBook.com, and more info about author W. K. Berger's other writing at http://warrenberger.com.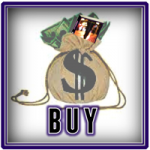 Get More Information and/or Buy This eBook at Smashwords in many different formats