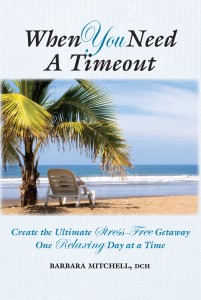 Preview it.  Buy it:    http://www.smashwords.com/books/view/3838.
 5 Star Reviews:        http://www.amazon.com/dp/B002U829LS
"The Busy Girl's Guide to Real Stress Relief"
Feeling irritable, fatigued and overwhelmed lately? These are signs of your body under stress.  Once you learn to relax and make "me time" a priority, you will begin to counter the imbalance in your life.  When You Need a Timeout is a how-to guide for incorporating relaxation and pampering into your busy schedule.
This book follows true stories of women who learn techniques that undo years of damage caused by stress.  Try the interactive stress-busting exercises, motivational examples and diet tips.  Sample meditation, visualization, breath work, journaling and more.  Enjoy pampering at-home spa routines.
Make yourself a priority.  Put yourself first for a change and learn to "let go".  Get started on your road to a happier, healthier life.   Lower blood pressure.  Less fatigue.  More energy.   Includes the *top five stress management techniques for mind/body rejuvenation.
*These techniques were featured on The Balancing Act Lifetime Television, Author Interview segment by Dr. Barbara Mitchell.  Topic "How to Be a More Vibrant Person" …BAMVP.
For more information visit "On the Air" at http://www.thecalmingbreath.com.
Finalist "Women's Issues" 2010 National Indie Excellence Book Awards
About The Author
Barbara Mitchell DCH, Stress Management Consultant, Doctor of Clinical Hypnotherapy, Author.
Dr. Barbara was inspired to write When You Need a Timeout from her experience as co founder of an exciting venture in the 1990's sponsoring stress management "getaway retreats" for women.   Feedback and testimonials from the attendees confirmed that these "escapes" had life changing value in terms of improving their outlook and emotional and physical health.
"My purpose for writing When You Need a Timeout is to share those powerful stress-busting techniques, diet tips, motivational examples and pampering routines proven to combat stress related symptoms, illness and disease".
Her latest release is a companion CD, Just Relax Like This, which features five of the most effective stress relief techniques from the book.   Dr. Mitchell discusses her book and these techniques to "Be A More Vibrant Person" in her interview on the Balancing Act on Lifetime Television.
Dr. Barbara Mitchell DCH is an Ezine Articles Expert and has contributed to a variety of online blogs and publications.   Her book has been reviewed on several sites including the online magazine Natural Awakenings and has earned 5-star reviews on Amazon.com.