ENDORSEMENTS:
"This remarkable book by Irene Kendig offers deep comfort and gentle peace to anyone grieving the death of a loved one."
-Neale Donald Walsch, NY Times Bestselling Author of Conversations with God
"This book speaks truth. Consciousness is immortal and distinct from the body."
–Bernie Siegel, M.D. NY Times Bestselling Author of 365 Prescriptions For the Soul and Faith, Hope & Healing
"This wonderful book, filled with love and wisdom, provides many answers about our 'deceased' loved ones. Highly recommended."
-Robert Schwartz, Author of Your Soul's Plan
"This amazing book of conversations with people from the 'other side' will be intriguing to skeptics, fascinating to the curious, and enthralling to believers in reincarnation and past life regression. Irene Kendig asks all the right questions, and gets answers that can help us all live better on 'this side.'"
-Jim Barnes, Editor, Independent Publisher Online
"This simply delightful book is chock full of wisdom and healing. Irene has a gift of presenting complex spiritual concepts in a very easy to understand, common sense, and fun way. This is one of those rare books that is hard to stop reading. Highly recommended!"
-David H. Paul, M.D., Ph.D. Co-director, University of Santa Monica Prison Project
"This 'Work of Love' is a fascinating and intriguing read full of surprises, infinite possibilities, and assurances that there is indeed life after death. Irene permeates the conversations with her insights and learnings, enabling readers to experience the dialogues from their own level of Consciousness and Light. It is a privilege to offer words of support for this enchanting book."
-Sister Judian Breitenbach PHJC (Poor Handmaids of Jesus Christ) Namaste Center for Holistic Health and Education
"I fully intend to use this life-affirming book to facilitate my grieving and dying clients in opening up to new ways of thinking. This is a delightful guide to our inner Spirit that diminishes death anxiety. Everything is in order and everything is for the greater good. No conflict of interest for Christians, Buddhists, or Jews. This book will be a great contribution to so many!"
-Peg Armstrong, M.A., LPC Psychotherapist
"Powerful, courageous and enlightening, Conversations with Jerry and Other People I Thought Were Dead restores our conscious awareness to the continuity of life and our eternal nature as unconditional love. Irene opens our hearts and minds to a deeper understanding of the journey of our soul."
–Harold W. Becker, Founder of The Love Foundation, Inc.
"I was uplifted by the wisdom and compassion of these dialogues. The perspective offered from the 'other side' does much more than clarify what dying and the afterlife are about. These dialogues address the fundamental philosophical questions of life in a very clear and loving way. Irene Kendig gently but consistently shows the reader how life always invites us to take responsibility and let go of judgment. I am grateful for this book."
-Pamela Kribbe Author of The Jeshua Channelings
"As I read Conversations with Jerry and Other People I Thought Were Dead, I began marking important passages. Then I began underlining passages of exceptional clarity. I soon realized I was marking nearly every page because nearly every page provided new and clear understandings. I have been studying near-death experiences for fifteen years, gaining bits of information about life beyond the physical. Each NDE is like a thread. Then I read Jerry's descriptions of life beyond and I saw the tapestry. That's the real significance for me.  I feel like a study of NDE is unnecessary any longer because I have the whole picture. This is the best book I have ever read."
-Chaplain Dick Dinges, Fellowship of the Inner Light, Virginia Beach, VA
REVIEWS
"This is a book rich in thought and wisdom that makes the concept of dying not only a process to not fear, but one to anticipate." (5 star Amazon rating)
Grady Harp, Top 10 Amazon Reviewer
"Author Irene Kendig strikes gold while digging for answers about life from those who have lived, died, and are now 'living on.' It is impossible not to learn something about life from this book. Some of the revelations are startling, some are simple, some are complex, some are transforming, and some are comforting, while others are controversial and difficult to fathom. Almost every page of this book has decidedly profound insights to offer. Kendig's interviewing skills are incredible. Her questions are direct and weighty. Her writing is concise and cohesive. The book not only presents the reader with specific details about our transformation in death, it is also brimming with suggestions that can transform us into happier, more loving and forgiving people in life."
-Claudia Pemberton, US Review of Books
"Offering a wealth of spiritual wisdom, insights, and perspectives, Conversations With Jerry And Other People I Thought Were Dead is a fascinating and informative read which is strongly recommended for both personal and community library collections."
-Jim Cox, Midwest Book Review
"What does it feel like to take one's last breath as a living person and one's first in the world of spirit? Author Irene Kendig asks the 'deceased' this and other thought-provoking questions in her book, Conversations with Jerry and Other People I Thought Were Dead. The answers she receives through gifted medium Jana Anna will surprise, delight, and comfort readers."
-Kristine Morris, ForeWord Reviews
"This page-turner will warm your heart and stimulate your mind; both personal and metaphysical, each conversation will turn your thoughts simultaneously outward and inward. Fair warning: you may have a hard time putting it down!"
-Julie Clayton, New Consciousness Review
"By turns intensely personal and grandly philosophical, Kendig's renderings of her sessions with Anna are a joy to read."
-J. Blackmore, Allbooks Reviews
"What you take away from this book isn't so much the great and grand knowledge of what the afterlife will be like, but the great and grand knowledge of what our lives can be like while we are still living them."
-Michelle Taylor, BellaOnline Spirituality Editor
"Conversations with Jerry and Other People I Thought Were Dead is a well-written, thought-provoking book. Even though the material is somewhat complex, it was very easy to follow and I never felt confused. In fact, I never felt the need to put the book down and contemplate the material; I just wanted to continue reading and get as much information as possible. And now that I'm done, I can't stop thinking about it! My father passed away a few years ago and I've had a hard time dealing with his death. I now have a completely different thought process, and although I deeply miss my father, Ms. Kendig helped me to think of his death in a special way. The book also made me think of my own life and how I want to live it much differently. I truly enjoyed the book and will be buying copies for my family as we learn to cope with my father's death. Thank You!"
–Judge's Commentary, 18th Annual Writer's Digest Self-Published Book Awards
"This book brought a level of comfort that I didn't know I even needed."
-Deanna Joseph, BellaOnline Inspiration Editor
BACK COVER

In this remarkable collection of interviews with seven people who've died, Irene Kendig, with the help of a gifted medium, explores what happens when we transition from physical to non-physical life. Each of the seven dialogues begins with the same question: What did you experience when you released your last breath on earth?
The responses offered by Ms. Kendig's loved ones not only diminish fear of dying, they provide solace for those who grieve, and inspire all to live courageously, joyfully and respectfully . . . now.
This book is for anyone who has ever wondered whether there is a Heaven or a Hell, a Judgment Day, or a reunion with loved ones. It will illuminate and inspire your heart and mind whether you believe in an afterlife or not. These dialogues explore life from a spiritual perspective, which elevates consciousness and empowers you to make choices in alignment with your soul's purpose.
If you are hungry for spiritual truth and meaning, this book is a banquet of knowledge, wisdom—and peace of mind.
Grateful Press, LLC is proud to announce that Conversations with Jerry and Other People I Thought Were Dead has been honored with multiple national and international awards. We are grateful for these honors, which will allow the book's message to reach so many more readers.
Winner, Death and Dying, 2011 International Book Awards
Winner, Health: Death and Dying, 2010 Best Book Awards, USA Book News
Silver Medal Winner, Death and Dying, 2010 Independent Publisher Book Awards
Finalist, Death & Dying, 2011 National Indie Excellence Awards
Finalist, New Age Non-Fiction, 2010 National Indie Excellence Awards
[youtube]http://www.youtube.com/watch?v=GjKCUIUn9cA[/youtube]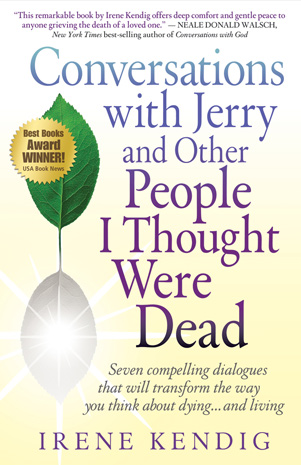 Get More Information and/or Buy This eBook