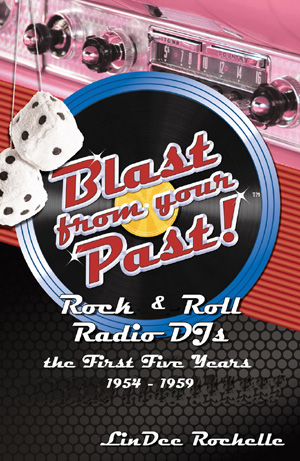 The Blast from Your Past!(TM) series begins with the ebook "teaser," Rock & Roll Radio DJs: the First Five Years 1954-1959. So hang on to your bouffant hair and rolled up dungarees; let's bebop down Memory Lane and enjoy the moment … again!
In the 1950s, '60s and '70s Rock & Roll music explored its babyhood, discovered its power, and exploded into its own universe. Though diverse in cultural growth, attitudes, and economics these three amazing decades were bound together by a fantastic music phenomenon—Rock & Roll.
Rock & Roll stroked our musical senses, introduced us to our wings and sent us soaring through life. Musicians, record moguls, and ambitious advertisers were the most influential people to stoke the Rock & Roll fire. But those who fanned the flames our way were the RADIO DISK JOCKEYS.
Who was your fave DJ? Cousin Brucie in New York? Dr. Don Rose in San Francisco by way of Atlanta and Philly? Or the wild-n-crazy Wolfman Jack, to whom BFYP is dedicated? The First Five Years 1954-1959 revives history and chronicles 15 DJs' behind-the-microphone antics from coast-to-coast. Coming soon is the 25-year print version with more than 40 real DJs' tales of Sex, Drugs, and Rock & Roll!
"After we read your book, we started thinking we were back in our 20's and 30's … and then we started thinking you were there with us … mentally we journeyed back, and ALL of us seemed young again. It was a fantastic journey."
Mike Korgan (Ken Chase-BFYP jock), producer, "Louie, Louie," by The Kingsmen
"I downloa
ded your book and just started reading it. I know I should wait 'til I finish, but I had to tell you … I love it already! Your love for the subject matter is so obvious … and I'm really enjoying hearing about some of the people I didn't get to interview for 'Airplay.' It's 2:30AM, but I have to read one more story … okay, maybe two …"
Carolyn Travis, documentary executive producer, Airplay: the Rise and Fall of Rock Radio
Fun, energetic, often irreverent and absolutely entertaining!