"Terry L. Sumerlin, amiable barber/philosopher and motivational teacher, looks for the meanings in all human encounters. His essays usually start with some ordinary personal or business exchange, in which he sees a theme lesson for leaders: fairness, trust, attitude, first impressions, stress, communication skills. Then, with good humor and an eye for just the right adage or anecdote, he makes his point plain, and signs off with a one sentence "Leadership Principle" worth memorizing." ~ James Alexander Thom, Award-winning novelist. "Humorous and insightful, a real shot in the arm for the business leader. Terry has taken a unique perspective, blending daily interactions with business principles…very powerful. A most impressive read!" ~ James Quinn, Jr., General Manager Marriott Rivercenter – Marriott Riverwalk. "Terry, I really do like your book! Each story is an interesting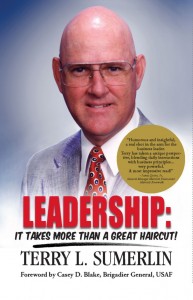 and enlightening read; the information you share is helpful, practical and full of not-so-common sense! It's the kind of book that makes a great gift for any age. People over 50 will enjoy reminiscing and "connecting the dots," while those under 50 will be helped to create and develop their own character base. I can't think of anyone that would not benefit from reading it – several times!" ~ Laurie Magers, Executive Assistant to Zig Ziglar, Author and Motivational Teacher.
"If you enjoy lofty leadership theories written in business school jargon – this book is not for you. On the other hand, if you are a current or aspiring business leader who wants practical advice you can grasp quickly, you won't be disappointed!" ~ Brad Shorr, social media marketer and Amazon reviewer.   
[user_submit_name]
Get More Information and/or Buy This eBook