You have become the caregiver for a loved one with Alzheimer's disease. You may have been dreading this for some time, or you may have been surprised when this responsibility was thrust upon you. Maybe you know you are among 11 million family caregivers caring for 5 million Alzheimer's patients in the United States, but those numbers don't make you feel any less alone.
Perhaps you don't know anything about the disease, but most likely, you know just enough to realize that you are facing new and difficult challenges. Your loved one has exhibited short-term memory loss and behavioral changes. You're relieved to know the reason for the changes, but you're overwhelmed with the responsibility of caregiving. You want to give your loved one the best care possible, but you don't know how to deal with the new and sometimes bizarre behaviors.
If you see yourself in the description above, this guide is just what you need. You can read it from cover to cover in an hour or so and find simple, efficient, practical tips to help you with everything from activities of daily living to laughter and enjoyable activities. Keep it handy to refer to specific sections as your loved one's disease progresses and you face new situations. Learn how to care for your loved one and yourself and how to make the best of your time together.
==================================================
I wish I'd had something like this a few years back when my husband first started showing symptoms of AD. I would have recognized his problem sooner and dealt with it much better. I am going to keep it around for reference. I really liked the way Nancy gave examples. That always helps. And she addressed the spiritual aspect too. That is so important and usually absent from articles on this terrible disease. The last few pages were very touching and so beautifully written. They left me in tears. ~ Billie Houston
==================================================
Nancy has written a most informative and helpful book. She describes why those living with Alzheimer's Disease behave as they do and offers practical, effective ways that caregivers can respond to them. I learned so much from reading this book and think others will find it readable, interesting, and useful. ~ Jan Kilby
===================================================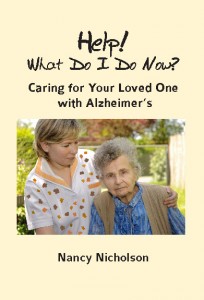 Get More Information and/or Buy this eBook at Smashwords
Buy the Kindle edition at Amazon.com
About the Author:
Nancy Nicholson traveled a circuitous route to her present position as a licensed social worker. She dropped out of college to go to work and spent years in a variety of careers, including nurse's aide, career counselor, and operations manager of an interior landscape company. When her father was diagnosed with Alzheimer's disease, she became one of several family caregivers. She watched her father deteriorate from a highly intelligent, strong, and independent man to a body lying in a nursing home bed, not recognizing anyone and unable to control his bodily functions. She also saw the toll the disease took on her mother, the primary caregiver, and the other family caregivers. What she saw made such an impact on her that she decided to return to college and devote her life to caring for the elderly, particularly patients with dementia. She graduated from Texas A&M International University with the degree Bachelor of Social Work and earned her license as a Licensed Bachelor Social Worker. For the past seven years, she has worked for a chain of nursing homes, first as a social worker in a facility and currently as a social services consultant, where one of her primary duties is training nursing home staff.