Whether or not you are a native English speaker:
The information here will help you to better communicate with others. It doesn't matter if you're a student, teacher, tourist, businessman, employee, or an employer; this book will help.
You will find:
*   Easy-to-understand meanings and equivalents for:
Idioms.
Phrases.
Expressions.
And some commonly used sentences.
*   Typical examples showing how the expressions are used.
*   The likely origins of some of these expressions.
*   Illustrations that serve two purposes:
1.  They add some humor to an otherwise serious reference
book; and
2.  They illustrate how some expressions could be misinterpreted
by someone who is hearing them for the first time.
*   And, finally, some interesting expressions and proverbs
from other languages and cultures, which show how people
of the world have more things in common than we tend to realize.
This book is not about English grammar. It's about being able
to communicate more effectively. Best of all, it's good for all
language levels.
If English is NOT your native language:
Use this book to better understand what you hear, read, or even say.
If English IS your native language:
Use this book to say things more clearly so that others will understand you better.
It's important to know that some idioms and expressions may have different meanings under different circumstances. If what you see here does not satisfactorily explain what you've heard or read, please let us know.
Finally, we've tried to keep it clean. Obscene words are either excluded or only partially spelled. Please let us know if we've missed anything.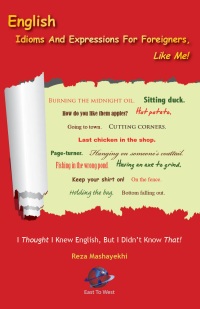 [cf usp-authorname]
Get More Information and/or Buy This eBook