"I don't like work anymore. It's not time to retire, but I want to think about what I'll do then. I want to continue to contribute, to know that my life will still matter."
Whether you're like this woman and planning ahead for the next stage of life, or already there, Second Blooming is the book for you.
Tumultuous events of the 1960s and 1970s–development of The Pill, Civil Rights and Women's Movements, Title IX, and the Roe v. Wade decision–mean women are living in a changed landscape, treading new ground as a "transitional generation" with few role models or guidelines. Second Blooming provides the benefits of a personal coach, helping you maximize your opportunities while minimizing the pitfalls. An inspiring but practical process guides you to picture, plan, and grow a purposeful life.
You'll embrace the second half of of life with optimism, self-understanding, and enthusiasm. Engaging, real-life stories throughout will connect you to the millions of other women who are also cultivating their life's garden. And your reward? No regrets. No "if only" wishes. Instead, you'll celebrate a life well-lived and be able to say, "My life matters." – back copy
"When a woman turns fifty, she can either put her head in the sand or plant new seeds in better soil. The latter requires hard work, and these cheerful authors offer some sound suggestions in this no-nonsense guide." – Publisher's Weekly Select
Second Blooming for Women "has a huge built-in market just waiting to be tapped. The connection to gardening, which is maintained throughout the book, is a terrific idea. Ditto for the split narrative, which alternates between Ms. Logan and Ms. Smith. Thoughtful questions are raised throughout the book, keeping readers engaged until the very end." – Writer's Digest "Authors Logan and Smith have packed every chapter with inspiring advice that will be sure to give you a pick-me-up when life throws you a challenge." – Anne Holmes of National Association of Baby Boomer Women
This book "is a unique how-to guide for any woman able to view herself as a hardy annual in life's garden. She can choose to bloom again and more vibrantly than ever instead of wilting into an invisible existence." – Mary M. Riker, writer
"Here are the characteristics of the book I especially like: the collaborative effort of the authors; the garden analogy; the abundance of resources; and, multiple thought streams built into the text. This book offers, if readers make use of the gardening tools Kathleen and Betsy supply and the action plan they propose, just what the book promises: the opportunity for a Second Blooming during the second part of life." – Linda Wasserman, Publisher, Pelican Press
"Your book changed my life. – Sharon, reader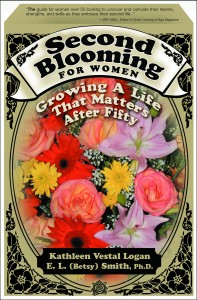 Get More Information and/or Buy This eBook