Inspired by a true story, Pilate's Cross follows John Pilate, his sardonic imaginary pal Simon and lovely new friend Kate as they investigate the cold case mystery of a murdered college president. In too deep to wash his hands of the mystery, Pilate risks his life to uncover the truth of what happened in 1963 and why it's just as deadly today.
The Truth Behind the Thriller
In the early 1950s, a professor in tiny Peru, Nebraska strode into a college president's office and shot him dead, then killed himself. Though few remember this terrible event, it inspired J. Alexander Greenwood to write the novel Pilate's Cross. Today Greenwood is a public relations consultant in Kansas City, but in late 2003 he moved to Nebraska's Peru State College for a two-year stint as director of marketing and public relations. Nestled in the rural "Campus of a Thousand Oaks," he found the inspiration for a mystery story.
"The real core of this book is about the open secrets that can fester in a community until an outsider raises questions," Greenwood said. Greenwood eventually gained access to police records, crime scene photos, witness affidavits and news coverage of the decades-old murders, but the resulting book is not a thinly veiled fictionalization of an historical event. "The professor's motive was, in the grand scheme of things, terribly petty," Greenwood said. "Pilate's Cross is inspired by the questions this terrible crime created; but as a work of fiction it's set in a different place and has a more complex motive for the murders."
"Nearly all aspects of the book, including the location, characters and most importantly the mystery are strictly products of my imagination. However, recent real-life events are chilling in their similarities." Pilate's Cross has action, mystery, romance and adventure–all in one suspenseful read. Find out for yourself why washing your hands of murder isn't easy.
Reviews
Pilate's Cross has a bit of everything—action, romance and spine-chilling suspense. Mr. Greenwood has a very strong voice for mystery storytelling. His style is to tease and draw you in, and that's exactly what happened when I read his book. Now I must wait patiently for his next one to be further thrilled by the adventures of John Pilate. ***Big 2 Thumbs Up*** –Eden Baylee, Author of Fall Into Winter
Pilate's Cross was a total winner. When I first read it several months ago, I was along for the ride with John Pilate, the title character. I was as in the dark as much as he was. Greenwood kept me guessing until the very end. I picked it up a second time to review and was thrilled all over again. Greenwood weaves a depth of detail throughout the book that can only be caught on a second reading once you know what's really going on. Full of humor and oh-so-quotable quips, it's a no-brainer e-book purchase. –Michelle Stinson Ross, Author of Revenge of the Siren Song
John Pilate is a wonderful hero and all around good guy. Simon, a figment of Pilate's imagination who is so very not content to remain so, isn't so bad either as something of a nemesis/anti-hero/conspirator. They are the two most sharply drawn, but all the characters are memorable. The story moves along at a crisp pace, and the dialogue is sharp. It's also got some very vivid imagery (sometimes a little too vivid *shudder*). I recommend it to anyone who like mysteries. I look forward to Pilate's Key. –Katherine L., New York, NY
This was a fun read! –Claire F. Kansas City, MO
The characters are so real to me–they're like people I've come across in my life. –Lisa H. Liberty, MO
Cover Art Concept and Design by David A. Terrill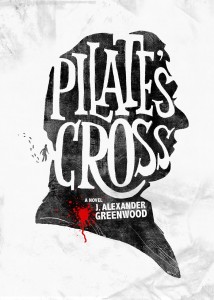 Get More Information and/or Buy This eBook