[usp-atachments]
[cf "user_submit_name"]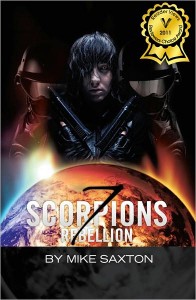 Kindle Version
Nook Version
Author Website
Price: $.99
Synopsis
In Saxton's award winning novel, the mysterious and brutal dictator known only as the Zodiac sets off a series of flash bombs in every major city across the world igniting the Flash Storm, which quickly brings society to its knees. In the wake of the destruction, he unleashes the dreaded Seekers to complete the enslavement and extermination of humanity.
A former vigilante, turned government super soldier experiment, emerges from his self-imposed exile to challenge the new status quo. Can Vincent Black, with his makeshift team of unlikely allies, overcome the demons of his past to help preserve the future of humanity?
Reviews
"Plenty of action and characters that are real enough for us to have genuine concern for them. '7 Scorpions: Rebellion' is the first book in a new trilogy and I'm looking forward to catching up with Vincent and his group of rebels in the second book, '7 Scorpions: Revolution.'" – Marty Shaw, Reader Views
"'7 Scorpions Rebellion' is a fine pick and very highly recommended for science fiction fans." – Midwest Book Review
"Skillfully blending vividly fashioned characters with breathtaking suspense, author Mike Saxton takes a highly believable scenario and gives it just enough of a fantastical twist to make it a compelling page-turner." – Chelsea Perry, Apex Reviews
"This is a great start by Mike Saxton, and I hope that the other two novels in his trilogy are as fantastic or more so than this one!" – Bestsellersworld.com
Author Bio
Author Mike Saxton resides in Vernon, Connecticut, where he works as an Assistant Dean and is working on his PhD in Organization and Management. He is currently writing the other two books in the series.