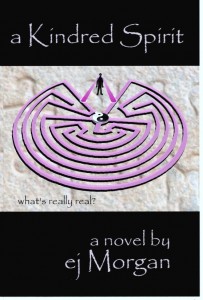 Philip K. Dick is dead but he's not done. The semi-famous "sci-fi" writer, sometimes called the Prince of Pulp or a fictionalizing philosopher, has Unfinished Business. To further complicate things, he is tangled up in the afterlife with the heretical former Episcopalian Bishop of California, James Pike. The two have finally figured out—well, everything, but need a way to convey their message to the masses. Back on earth, in 1982, a young investigative reporter, Niki Perceval, is chasing the ultimate news story—Doomsday.
It's a journey through time and space, and a search for what's really real. As a tribute to Phil and VALIS, A Kindred Spirit blends fact and fantasy, but you don't have to be a PKD fan to follow the fun. There's something for everyone: adventure, computer culture, romance, and a spiritual quest; plus all the favorite phildickian themes of paranoia, info-firing pink beams, and mysterious cosmic communications. Yes, ancient aliens, Sumerian Shamans, and of course, Zadokite Zealots. It's all in there and much more in this novel by ej Morgan.
"I really do believe Phil is aiding you from the spirit world."— Paul Williams, former Literary Executor for Philip K. Dick's estate
A Kindred Spirit, or AKS as Phil fans call it, is fiction or maybe Transrealism.  Many of the characters are real-life characters– wacky crazy people, both dead and alive.  As the author, I actually lived some of the experiences, but I'm no James Frey.  It's not a memoir, it's fiction. It's a story of hope and finding peace.  And as the disclaimer states:  Any resemblance to reality is purely coincidental.
ej "jami" Morgan, Author
Get More Information About This eBook