A classroom-proven system to teach all multiplication number facts/times tables up to 12×12, in just 10 minutes per day over 11 weeks!
Over 70 worksheets, including revision sheets, checkup assessment sheets and all answer sheets.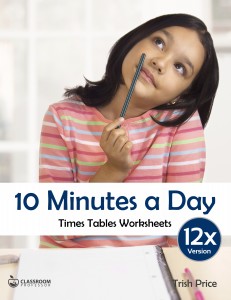 THE PROMISE:
This new series of eBooks enables teachers to easily and quickly teach all basic number facts to their students in just 10 minutes per day.
THE PROBLEM:
Many students today simply don't know their basic number facts, and so rely completely on a calculator to find answers to simple math facts which earlier generations knew in their heads. Without these foundations, students become frustrated, anxious or resistant to math lessons and math teachers. Without a secure knowledge of the basic foundations, students will not achieve success in applied math lessons, and many grow to hate the subject.
There is a lot of confusion about number facts among teachers and publishers today, with some saying number facts are no longer needed, and other advocating a return to "drill and kill" techniques involving endless repetition of facts for an entire class. Neither approach is the right one!
THE "10 MINUTES A DAY" NUMBER FACTS FRAMEWORK:
Students need to learn number facts using a system that provides them with a strategy for each type of number fact, giving them something to fall back on until the facts are securely known. The "10 Minutes a Day" series is based around a sequence of 10 or 11 strategies which can be simply taught to a whole class at the start of the week. For that week, there are then four 10-minute worksheets to complete in class, and another two 10-minute worksheets to complete as homework.
Each sheet includes a brief description of the strategy being practiced, written in language suitable for the teacher or a parent. Answer keys are provided for all sheets, which can be used by students marking their own or their classmates' worksheets.
Lastly, there is a set of check-up sheets to assess students' knowledge of number facts across multiple strategies.
BENEFITS:
Teaching number facts becomes fast and simple – this system includes all required components to successfully teach number facts to a class
The teacher's job becomes easier – one task just got taken care of, freeing the teacher to focus attention on thing more deserving of their time
Using the system doesn't take too long per day – it requires just 10 minutes per day for students to learn all number facts in only 10 or 11 weeks
Parents love it when their children's teacher is focusing on important foundations, including number facts
Students/children get excited about learning their number facts, and have fun in the process
Students compete with their own times, meaning that there is no discouragement for weaker students and no unhealthy competition between students
Students start to make connections between the number facts they learn and other mathematics concepts
Lower-ability students are supported by this program, as the facts are sequenced and scaffolded to maximize success at each stage of learning
TEACHER TESTIMONIAL COMMENTS:
I used it every day in my Year 6 class; the kids LOVED it! – Kylie P
It's great for [students in the lower maths group] to be able to see that we can really improve their basic number facts. And as we go through the booklet the number facts increase in difficulty, but they're not scared to try it, because we're doing it little bit by little bit. – Lauren O
I haven't seen anything like it before. I haven't seen any worksheets that resemble anything that these worksheets do. – Liz K
The kids love it, because they all try and beat their time, that's the whole aim, and so for me it's a really good way of being able to see where they've come from, and how they're going, and what areas they need to work on. – Nola R
I think this work flows on into the other work that we do in mathematics, because the children are able to think faster on their feet, so to speak, and they're able to go through and work through their other content, and this allows them to practise both their speed and their accuracy, and to improve both. – Stephen J